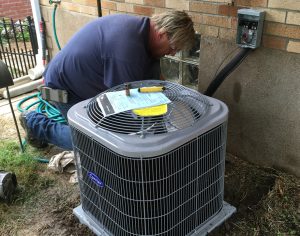 When should I replace my Heating and Cooling Equipment?
Here are some of the signs that it may be time to consider replacing your heating and cooling equipment.
Consider replacing if:
You require frequent costly repairs
Older equipment becomes less efficient with age.
Your furnace is more than 15 years old.
Energy Star qualified equipment can save you up to 50% on heating costs.
Your air conditioner is more than 10 years old.
Energy Star qualified equipment can save you up to 50% on cooling costs.
You have problems with humidity
Old equipment and leaky ducts can cause air to be too humid in the hotter months and too dry in the colder months.
You have problems with dust
Leaky ductwork can spread dust from basements and attics throughout your home.
You have problems heating and cooling certain rooms 
Poor insulation and damaged ductwork could leave certain rooms starved for air.
You do not have a programmable thermostat
One of the biggest money savers is having a thermostat you can program to operate your system only when needed
Your system makes too much noise
Various issues lead to noise problems including damaged duct work and damaged motor housings to name a few.
Contact Joe Mattler to discuss your options for a system replacement.  Be sure to ask about the Ameren and Spire rebates which you may qualify for! 
Call 636-680-2100 Today!